Shaping the heart of Nottingham Waterside
What was going on?
Blueprint wants Trent Basin to be the heart of this new community, innovatively designed to meet the current and future communities' needs.
To achieve this, they knew they would have to thoroughly understand the community makeup and engage with those seldom heard in the planning process.
Rather than being constrained by the COVID-19 pandemic, sustainable developer Blueprint wanted to rethink the traditional engagement methodology, providing a truly inclusive, anytime, and anywhere consultation using real community evidence to influence its design.
How we helped
The designs for Trent Basin included some pretty "out-there" ideas, so we wanted this consultation to be as diverse and inclusive as possible. To do this we worked with Blueprint to fully understand their potential audiences and create an engagement platform that worked for them.
This use of innovative, interactive tools, combined with powerful data analytics, and an emphasis on youth-friendly content ensured that a remarkably diverse audience, including those seldom heard, was consulted during a multi-stage, irrefutably transparent engagement campaign.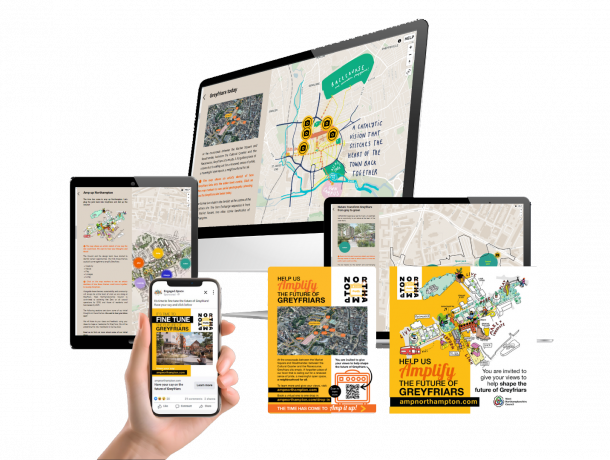 Engagement Strategy
Engaging a Wider Audience
We worked hard on this one to make sure as many people in the local communities were meaningfully engaged in this multi-stage consultation.
Our 24/7 access engagement platform formed the basis of our awareness-raising strategy, while specific engagement exercises made sure we heard from local businesses, schools recreational groups and other key stakeholders.
The result? 94% of respondents approved the final design.

Audio Commentary with Transcripts

QR Code Posters

Freephone Number

Video Walkthroughs