The festive season may be the most wonderful time of the year. But it's also the busiest for many companies. So imagine having the responsibility of delivering up to 140 million items a day to ensure everyone gets their post in time for Christmas. No we're not talking about Santa himself, but the Royal Mail.
Not only is delivering all these items a challenge in itself. But combine that with the major risk flooding presents to Royal Mail sorting & delivery offices, vehicle storage centres and road networks nationally and there is a danger of some seriously soggy socks being delivered this year!
To make sure nobody has a disappointing Christmas from lost or late deliveries, Royal Mail are using Deetu's Location Alerts: Flooding service for the second year to help protect their sites and logistics operations from flooding.
Managed Alerts
Through its direct access to real time national flood warning information, Location Alerts coordinates the delivery of unique notifications. It then targets these to the relevant teams dependent on the severity of the flood risk to each site. By targeting the alerts across the nation, early flood warning is provided to the right people at the right time.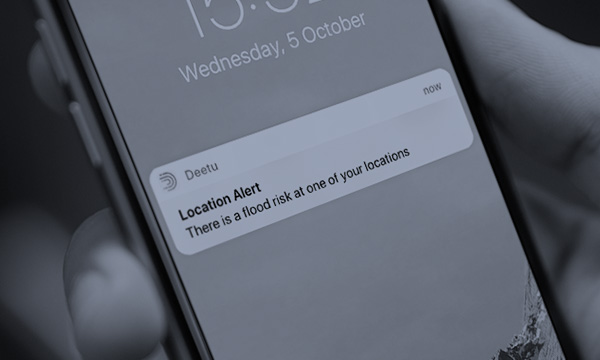 Not Just Postcodes
Although Royal Mail work with postcodes everyday, flooding just isn't that straight forward. Therefore, Location Alerts uses a series of algorithms to monitor the risk from flooding for a variety of areas around each site. Live flood risk updates also check nearby roads to ensure mail can safely get to and from delivery offices.
The Full Picture
The Location Alerts dashboard is then used to visualise the risk of flooding across the entire Royal Mail estate. This allows for strategic national decision making on whether mail should be re-routed early to avoid areas that are at risk of an imminent flood event.
Blown Away?
As were Royal Mail, therefore the service is now expanding to include warnings for strong winds, ice and snow.
Sadly, nothing can be done about that hand knitted jumper from your Auntie Marge.