UK city regions adopt Deetu smartphone technology at MIPIM 2019
If visitors to this year's MIPIM are wandering around Cannes with their heads buried in their smartphones then don't blame anti-social behaviour.
Instead it could well be that they are using a new generation of PropTech apps to experience a hand-held virtual fly-through of a development opportunity they've come across in and around the Palais des Festivals.
The new wave of PropTech solutions is likely to be one of the major themes of MIPIM 2019, which this year marks three decades as the most important date in the international real estate calendar.
City regions from all over Europe will make their presence felt at the 30th edition of MIPIM, investing substantial marketing budgets in the pavilions, stands and displays necessary to get noticed at an event which routinely attracts thousands of industry decision-makers.
Now, some key UK destinations have decided that the best ways to achieve a big impact is to have their portfolio in their pocket at all times.
West London positions itself as the world's most connected place, with a £73bn seven-borough economy which goes into bat at MIPIM with some of the biggest and most lucrative development opportunities in Europe.
Nottingham will attend MIPIM on the back of two significant successes – a start on the long awaited Broadmarsh retail and leisure development, and HMRC's decision to locate 4,000 people in a new Grade A office complex alongside the city's transport interchange.
A few miles further up the M1, Sheffield City Region is fresh from the huge coup of racing and sportscar manufacturer McLaren Automotive deciding to build a high-tech chassis-making facility in the heart of its advanced manufacturing zone.
The inward investment teams of all three destinations are likely to be among those wielding smartphones and tablets in front of visitors rather than pitchbooks or brochures.

Dave Smith, Sheffield City Region's Managing Director, said: "Being at MIPIM is a must for any ambitious destination, but the way we tell our story is changing. We're representing a powerful region, we have multiple opportunities, and the easiest way for us to help clients understand how those opportunities can enjoy long-term success is to put them in context."
"Static marketing collateral still has its place, but we want to bring our opportunities to life and the best way to do that is to give people a virtual tour on the device they carry in their hand. We'll be telling people about globally significant advanced manufacturing and a digital industries hub. Our marketing has got to be consistent with that kind of dynamic tech."
Andrew Dakers, CEO of West London Business, added: "Our mission is a simple one – to make sure West London is seen as the best place to do business in the world. West London's multi-faceted offer demands a 3D-perspective which can be accessed on any device if it is to be thoroughly explored and understood."
"West London is a huge critical mass of economic activity and with that comes complexity. So we need to be able to layer-up the different aspects of our offer from people, to transport infrastructure and site opportunities, and in a way which works for multiple audiences."
West London Business, Sheffield City Region and Nottingham are using Explore, a tool that has been developed by Deetu, the PropTech start-up that has also been selected as technical partner by MIPIM.

Josh Dickerson, of Deetu, says users are not necessarily looking for lavish, blockbuster presentation when they engage with digital place marketing.
He explained: "We're part of a design engineering group, and our approach to developing Explore was informed by our own experience of consulting, planning and delivering projects rather than doing graphic design."
"Decision-makers in the built environment don't want to sit through a Disney Pixar movie. They want to know what the opportunity is, where it's located and how it connects to the world around it. The most effective way to do that is via a tool which can run on a portable device without the need for anything other than a 4G or WiFi signal."
Brendan Moffett, CEO of Marketing NG, the place marketing organisation for Nottingham, is a MIPIM veteran. He says: "MIPIM is one of those environments that is so busy that you have sometimes got only minutes to make an impression. Part of that impression comes from the way you articulate your message."
"Nottingham is the place where Experian was founded, so digital data science is a heritage industry for us. Today, we've got one of the biggest concentrations of fintech expertise in the country. Like so many industries, it has been defined by the way in which it has embraced mobile technology to improve the user experience. We're doing the same thing."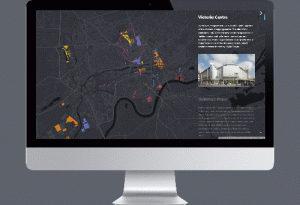 Filippo Rean, Director of the Real Estate Division at Reed MIDEM, which organises MIPIM, says that with this year's event adopting the theme of 'Engaging the Future', the role of new technologies in helping the real estate industry deliver long-term benefits will be critical.
He commented: "This is a transformational period for the global real estate industry, with digital technologies driving significant improvement in everything from the sustainability of the built environment to the way in which development opportunities engage with the world around them.
"We are delighted to be working with Deetu in helping visitors to MIPIM 2019 to identify the people and places they want to talk to.
"When I see cities and regions embracing the potential of PropTech to articulate their visions and bring their opportunities to life, I see an industry embracing the potential that disruptive technologies have to help the real estate industry meet the challenges of the future."